Andy Griffith and Americana
I have recently noticed an interior decorating trend called "Americana." It is characterized by patriotic colors, stripes and ticking, retro imagery, milk glass, and so forth. Picture the colors of a picnic or crab boil from the 1950s and early 1960s.
I can't think of a better piece of vintage Americana than the classic television show,
The Andy Griffith Show
. From the wardrobe to the quaint small-town setting, it was America as we dreamed of it. In some places, I think Mayberry really exists in some form, to the present day.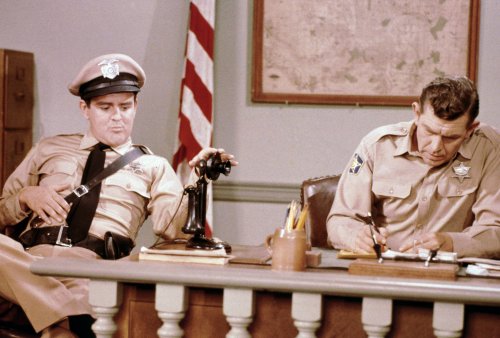 I have recently spotted some things coming back into fashion, like the narrow neckties worn by Andy Taylor (Andy Griffith) and Barney Fife (Don Knotts), and the fluttery neck scarves with the women's cap-sleeve dresses.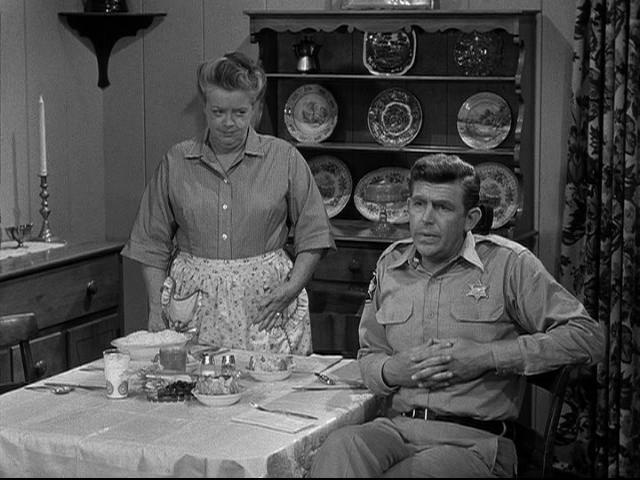 The old beige file cabinets and other details from the Mayberry Jail are all becoming popular elements in the
vintage industrial
decor style. I'm also seeing old road signs and rounded appliances coming back as decorator items, rather than their original functional uses. Picture using the more unusual elements from Gomer's gas station to decorate a trendy loft apartment or den!
Aunt Bea's kitchen knicknacks are all collectibles. This photo is black and white, but as I remember from the color episodes, they were mostly blue and white, or maroon and white, with pink and pewter accents.
Andy's house was furnished with neutral earthtone colors like beige, rust, gold, pine green, and chocolate browns, with bright pastel blue and peach pink accents. These days, I see the neutral colors and the pastels separated into two main color themes in decorating. However, I think if they went together then, they can still be paired now. Just use one color family as accent pieces.
All images found through a Google image search. As far as I know, they are linked to their sources on Photobucket and other places.
Where do you get your vintage Americana decorating inspiration?