I've been gone a lot these past few weekends, mostly for work, but this weekend I traveled across my home state with friends to see the Honey Creek battlefield, the site of a major Civil War conflict that decided my home state's position as a Union-held territory in the war. Most of the photos I took of the place are the "you had to be there" kind, but I had one I thought I'd share.
This was a group of Civil War reenactors who fired a cannon and marched around us into the parking lot at the dedication ceremony for the museum that is being built. I failed to get a picture of the cannon going off, but it is an experience you should have at least once in your life.
The important take-away from that place is a tangible connection to the past. I walked where soldiers stood 151 years ago and I saw where the battle lines were once drawn. It is a part of this world that we shouldn't forget.
That's what vintage collecting is all about---keeping a connection to the past.


Everything I have curated in my stores is a connection like that. I don't have anything from the era of the Civil War (I imagine artifacts like that rarely end up in estate sales, anyway), but I have a couple that are much older than the rest.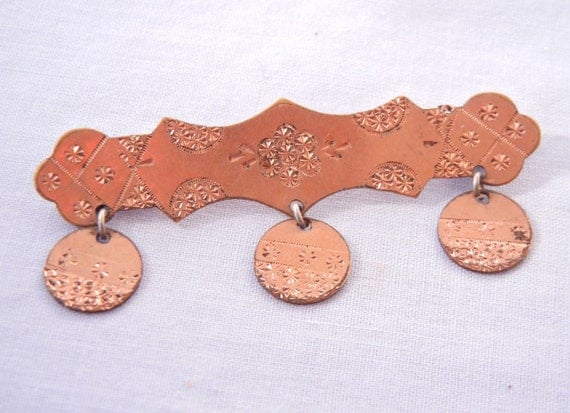 This
rose gold stamped brooch
actually did come to me from an estate sale. I picked it out because the pin back just looked old to me and the color was unusual. After consulting with some vintage jewelry experts, I now know it dates to approximately the 1880s or 1890s. I sometimes find myself wondering what dress this pin once accessorized.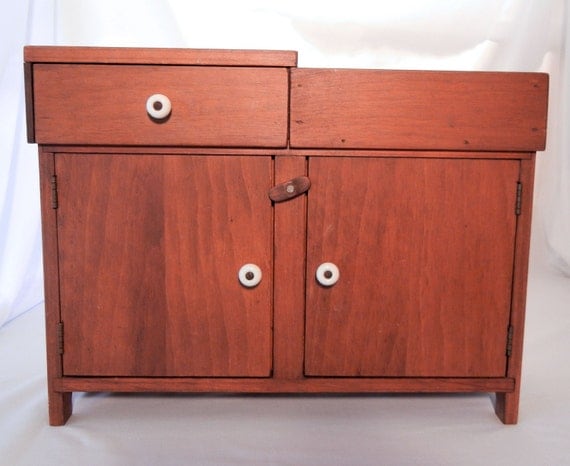 This
miniature dry sink
may also date to the very late 1800s, but I've conservatively dated it to the 1910s or 1920s. It hearkens back to the time when there was no indoor running water and all "washing up" had to be done in a washbasin with water that had been brought indoors. Of course, this is the tiny version of a normal American dry sink. It either served as a salesman's sample or as a "mommy and me" child's toy.

I've only had one other true Victorian piece in my store, although it has since sold. If you want to know the story of the doll chamber pot, here is the link to my earlier blog post:
Do you have something in your home or family that connects you to the distant past? I'd love to hear about it in the comments.