There are spring flowers and new leaves are gleaming in the bright sunshine around here. It makes me want to wear and decorate with bright colors, and throw open the windows to let in the sunshine. Mother's Day in the US is right around the corner, it's the peak of wedding season, and it's May birthday season, too. It's easy to find a good excuse to break out the flowers!
Here are a few of my favorite floral things from what I have on hand; I am preparing to list more in coming days: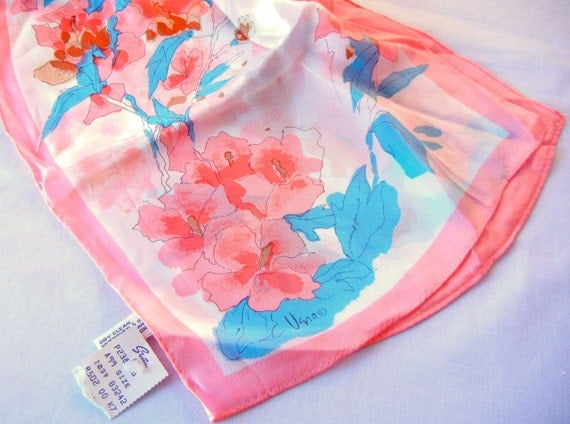 This vintage
Vera Neumann scarf
is fabulous! It is from the late 60s, and has never been worn (it still has the store tag on it). The print looks like peach pink and red Azaeleas with turquoise leaves.
70s era ceramic citrus floral wall plaque
is the perfect way to brighten up a narrow strip of wall, perhaps in a kitchen. It has a hanger already attached to the back. I believe if this is not Lefton, it is a quality imitator.
silk scarf
has a more neutral color palette, but that light blue still feels like spring to me--in the winter, it seems like the sky is always gray.
men's Hardy Amies necktie
has bright colors that remind me of flowers, but the pattern still has a masculine edge to it. A daring man could totally pull this off with a gray suit and a coordinating shirt.
hair chopsticks
, still tied in their original packaging, make a nice gift...maybe just to yourself. ;)
50s-70s era birthday cards
will help you get prepared for Mom's birthday this year. Some of them can be used for other people's birthdays, as well. They don't all mention mother in the messages on them, and only one has some writing on it.
I am only scratching the surface of what I have in stock. Floral themes are eternally popular and I don't think they ever go out of style. Many flowers also carry a special symbolic meaning (rooted in Victorian and ancient traditions), which makes them great gifts. Hope you'll stop by!
Curious about the traditional meanings of certain types of flowers? Here's an interesting link you can explore:
The Language of Flowers